Joined

Jun 22, 2008
Messages

448
Reaction score

8
I was contacted by a client as I was nearing the end of the 2 Bore Boxlock build, he was interested in whether I could build a cartridge version for him. Since I am not an FFL licensed gun manufaturer( I don't have to be to build muzzleloaders), I explained to him the limited types of cartridge weapons I could work on or build according to the BATFE. Specifically the law says in the exemptions listed in 27 CFR " Antique firearm. (a) Any firearm (including any firearm with a
matchlock, flintlock, percussion cap, or similar type of ignition
system) manufactured in or before 1898; and (b) any replica of any
firearm described in paragraph (a) of this definition if such replica
(1) is not designed or redesigned for using rimfire or conventional
centerfire fixed ammunition, or (2) uses rimfire or conventional
centerfire fixed ammunition which is no longer manufactured in the
United States and which is not readily available in the ordinary
channels of commercial trade."
With this criteria in mind we discussed what types of actions could be used and whether or not a 2 bore met the requirements. I explained that I would like to base this around a Jones Underlever style action because I could easily document the pre-1898 requirement as well as the added benefit that this action is extremely strong and reliable and would be a good candidate mechanically for a 2 Bore. This will be a Black Powder only rifle. I also have experience with building this type of action so that makes the job a little easier not having to work out all the bugs as the build progresses. After a bit of research to verify if I could find a commercial source for loaded 2 Bore ammunition, which I couldn't and then sending a letter to the BATFE tech branch to verify my understanding of the law and get it in writing that this would be a legal build for me to do, we started working out the details of the actual build.
The Details:
Action: The action will be a copy of an original pre -1898 Jones Underlever single shot. This will be a left handed rifle since my client for this build is left handed. It will have a dolphin plate back action lock, external hammer. With the Underlever wrapping over the Trigger Guard. This is the action I am modeling this rifle off of: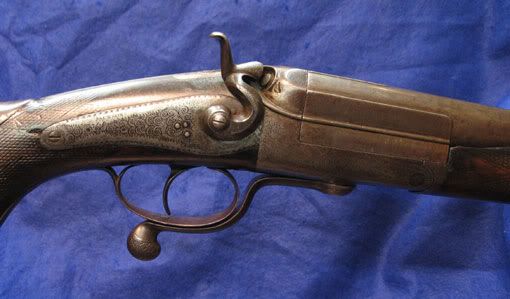 The back action lock will be a modified commercial L&R Lock. There are no current manufacturers of dolphin shaped locks that follow the contour of the pistol grip, so I will be taking the guts from a left handed L&R back action and building a new face for it. I can of course build a lock from scratch but starting with a commercial lock saves a lot of machine time.
The Barrel: I actually have several 2 Bore projects coming up, both this cartridge gun and muzzleloading 2 bores, so I have multiple barrels coming from different custom barrel makers. The one for this rifle will be 1.326" groove with 1:48 twist, tapered round. The twist rate is set up to shoot primarily lead round ball but being a faster twist leaves the door open to shooting conicals if my client later decides to try it. This was done at his request.
The Trigger will be a single no set trigger.
The trigger guard will be a pistol grip style.
The Rear sight will be a multi-leaf express sight set in a quarter rib. The front sight will be a ramped english style blade appropriate to the era of this rifle.
The Stock will be Maple stained to a medium dark, and finished in the classic oil finish we use on most of our rifles.
The style of the stock will be of the Rigby Pistol grip style with ebony forearm tip with checkering of 20 LPI semi-Flattop.
It will have a barrel mounted sling swivel and buttstock sling swivel.
The metal finish will be Color Case hardened for the Action, Lockplate, off side lock plate, Triggerguard, underlever, Hammer, Gripcap, and Eschuteons. The sights, barrel, quarterib and sling swivels will be rust blued. The screws will either be rust blued or nitre blued depending on their location.
Engraving will be highlight engraving, it will be of a style appropriate to the era of this rifle, the details of the engraving will be worked out later. I already have some ideas in mind though.
The Brass Cases for this build are being made by Jay Schroeder at S&H precision, and should be here any day now. They are the 2 Bore 3.5" 700gr cases he lists on his website:
Schroeder & Hetzendorfer LLC
Jay has been great to deal with and I would highly recommend him to anyone interested.
I will be getting the ball mould for this rifle from Jeff Tanner in the U.K., I have received several ball moulds from him and am always impressed with the quality and service.
I will be fabricating some hand reloading tools for this rifle as well.
The requested finished weight of this rifle is 22 Pounds and as always like all of my custom builds this rifle will be fitted for the client.
That pretty much sums up the details of the build.
Colin
Last edited: