I came out to visit my parents today and completely take over their huge kitchen! I have been going back and forth on when to do this summer sausage project and I finally broke down and said today is the day. I visited bass pro a few days ago and purchased a summer sausage kit which came with all the cures, seasonings, and casings I would need to take on this "little" project. I put that in quotes because there is nothing little about it. Its a hell of a lot of work!
Started out by defrosting a bunch of birds. While they were still frozen I pulled the skin off. It came off easily. Had I known I would be making sausage this year, I would have never bothered to go to the trouble of picking all my birds so cleanly. Took about 2 hours to thaw the birds and gave them a good soak. Then put them in the fridge and ran to Barbecues Galore to get the new smoker! I went with the masterbuilt with digital temperature and digital time display. Excellent purchase. I got the last one they had, the floor model. Had no choice though. I was determined to get this thing done this weekend. Then I headed to the wally world (super wally's out here) and purchesed 4.5 lbs of eye of the round and about 8 pounds of pork shoulder.
Came back home and cut all the meat up into cubes. This is really important for the grinder. I have an industrial grinder that is 1800 watt, but it still struggles at times, especially when the meat is really soft and slimy.
I ground the meat through the first time to just get it chopped up. This was with a coarse disk. The holes are larger in size. The meat comes about about 3 times the size of hamburger.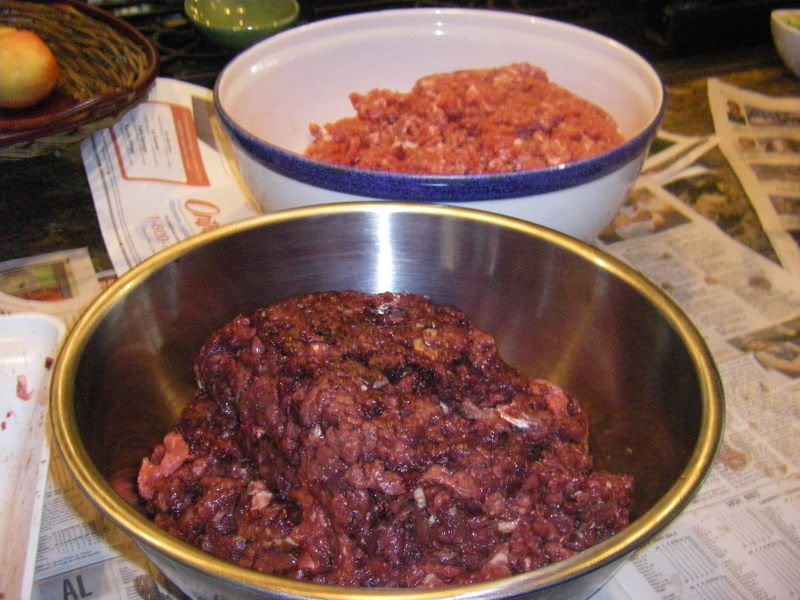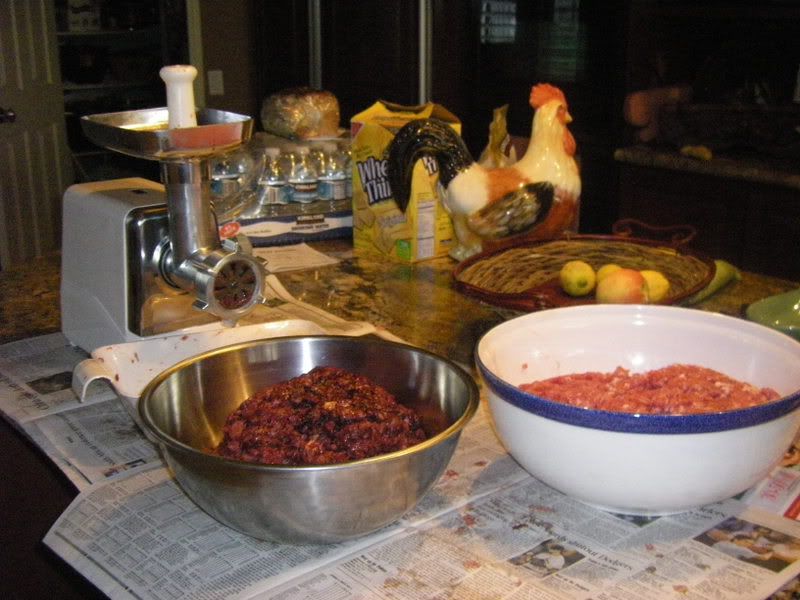 Once I had all the meat ground down, I mixed it all together in a large pot by hand. I planned on making ~15-20lb of sausage so I just followed the directions on the box. I wound up adding 12 ounces of cold water to the pot along with some seasoning and cure. Then carefully mixed the steak, pork, and duck together. I thoroughly mixed in the seasoning and cure. Then added more meat...more cure...etc... The final mix was one full bag of seasoning and one full bag of cure.
Once this was all mixed up nicely by hand, I ran it back through the grinder one more time on a fine setting. This was hamburger meat size. It mixed the meats beautifully. The challenge the second time around was the meat was warming up and very soft. It makes it a nightmare to get the meat to move through the grinder. All sorts of strange suction and air pockets make the meat want to come back out the top. It took me an hour to get it through the 2nd time!!
I then soaked the hog casings for an hour in warm water and put the meat in the fridge to cool down. I put some in the freezer as well b/c I ran out of storage space in the fridge. Then I recruited mom to help me with the actual stuffing part of the process. All I can say is MESSY!! Its a lot of fun too though
I hooked up the stuffing attachment to my grinder and forced/pushed the meat through a 3rd time. With the stuffer, I did not use a blade. Only the large grinding plate. Its not a perfect science but we got it to work. It took about another hour to stuff 6 sausage casings. Each casing holds 3 pounds of meat. I wound up filling them all perfectly with the exact amount of meat. It was a great guestimation on my part as I didnt weigh anything. The meat has to sit in the fridge for 12 hours. I will check back in with you boys tomorrow and let you know how the smoking goes. I have decided on an alder wood smoke! Should be delicious! Any advice on smoking would still be greatly appreciated before I make any mistakes.