Joined

Oct 24, 2007
Messages

1,203
Reaction score

42
Fish report for my week long trip the the OV for July fourth.
Monday...got algied out at Crowley. At noon we went to Bentons Crossing to fish the upper Owens. Spanked 'em on spoons, released them all.
Tuesday...The women arrive today, so we cleaned up the cabin, did some chores...then caught lots of bass in the Owens River.
Wednesday...took the mountain bikes to Pleasant Valley Rez...REALLY spanked 'em. Some algie, lures weren't doing it, so we slow retrieved 1/2 nightcrawlers...fish on nearly every cast. Good looking fish, most went on to the smoker. Lots of Sac Perch caught, also.
Wed afternoon we took the women and youngsters to Whitney Portal to fish the put-n-take pond. Large fish, and everyone caught their share. Released them all for the next crowd.
Thursday...getting older, can't remember, but I'm sure we fished.
Friday...DFG stocked the local waters thursday sometime. These were some NICE fish! 3/4 to 1.5 lbs. They were in all the local creeks and sand traps. Some of the most fun I've had trout fishing, even thought they were stockers. They really fought. All caught on lures.... Most ended up in the smoker...
Saturday did the Independence july 4th thing (pancake bfst, parade, fireworks, etc)...and fished
Sunday...a repeat of Fri and Sat...catching big trout by the tubful.
Home on Monday....can't wait to go back !!!
Here's some picks...stay tuned, I'll post more later:
Nephew Andy with a nice 'bow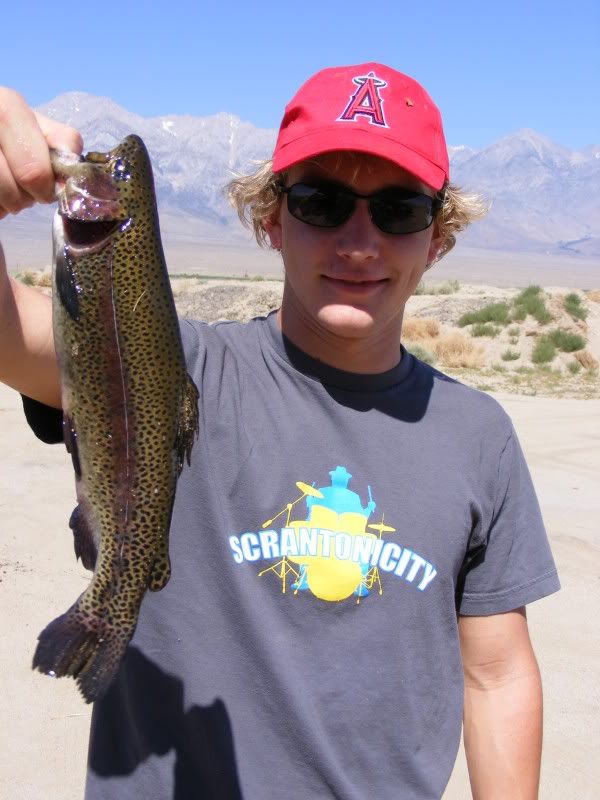 And with a stringerful
Myself getting ready clean fish at one of the OV's many artesian springs