Joined

Apr 2, 2009
Messages

25
Reaction score

0
Lake Texoma elevation is 1 ft above normal and water temperature is at 78°. Fishing is excellent and the fish are feeding every day now. The aggressive feeding is not an all day every day widespread occurrence yet but it will be in the next week or so as the water cools down a bit more. Normally this is THE time for the topwater bite, however, due to the rapid cooling of water temperatures it seems like the topwater bite came in an explosion during the week of low pressure that we experienced. There are still pockets of aggressively feeding topwater fish to be found but the majority of the fish seem to be moving to the deeper water.
I fished doubles (2 trips per day) Fri, Sat, and Sun and I'm glad to have today off for some rest. Fishing was great this weekend as I took home limits of fish on every trip. Some tips the fishing was easy while others required a lot of work but we were able to make the fish bite, even when they didn't want to. The fish fed aggressively at least once every day.
Friday AM (group of 2) We started off throwing topwaters and after a little searching we finally found a pocket of aggressive fish. At times, we were all hooked up with a fish on, all good fish 19-22". We kept 10 fish before the topwater bite quit and moved to bait fishing. I made a couple of moves before I found some good fish that would bite on anchor in 30ft. We were steadily catching fish but it was slow when I got a call about an acre of topwater fish hitting the surface. We pulled anchor and rushed over. Most of the fish were small but there were some good fish mixed in up to 5lbs. The fish were running in 8-15' of water and pencil poppers weren't working so I switched to cohoes. The cohoes were defiantly the ticket and we started catching fish on almost every cast. Picking through the little fish, we quickly boxed the rest of our limit and played catch and release until it was time to go in.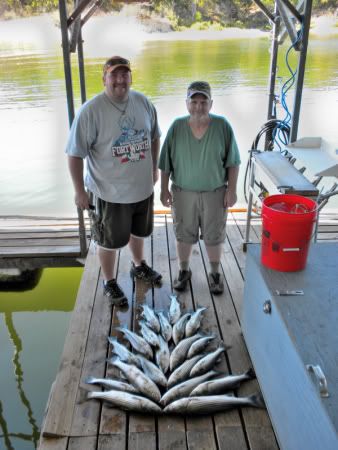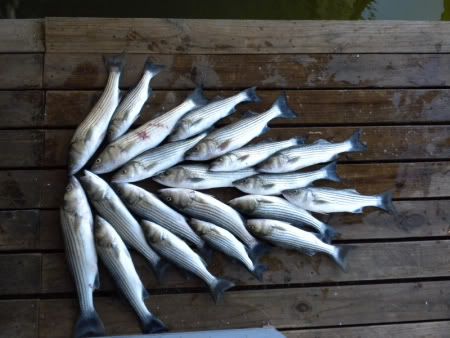 Friday PM (group of 2) I did some searching around looking for a good spot to throw an anchor before I found what I was looking for, a good school of fish hanging on a ledge in 30ft of water. I threw anchor and dropped down some baits 3 cranks off of the bottom. We sat there for a while with no action so I started to beat the water to call them up. Waited a little longer and I was about to leave when I noticed fish start to show up on the graph. "Get ready" I told my clients, "here they come". At that time every rod went down and It was fast and furious for the whole time. They were all good fish with several overs that we were having to pick through. After putting a our limit in the box in about 45 minutes, I gave my clients the option of continuing to catch and release, lure fishing, or going back to the dock to catch some catfish. They chose to go catch some catfish and were pleasantly rewarded for their choice with a 15lb blue and several other good fish caught right off the dock.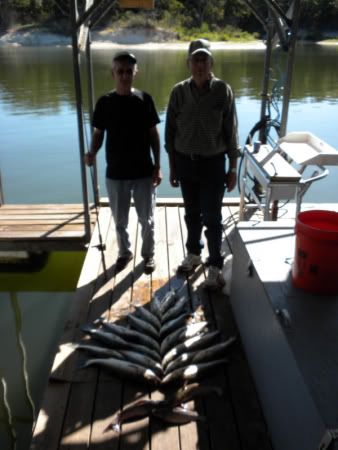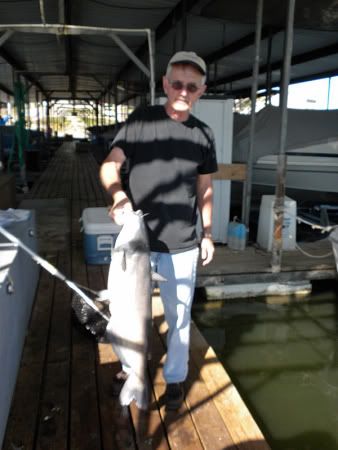 Saturday AM (group of 5) I picked up my group from Alberta Creek this morning and we decided to skip the topwater action and go straight to bait fishing. I made several anchors with great success at each one but they were all little fish. After about 7 anchors I we finally got on a school of good fish in about 45ft of water. The fish stayed with us all morning and we caught our 50 fish limit in about an hour and caught and released another 40 fish after that. We left them biting at 10:30 to go in and clean fish.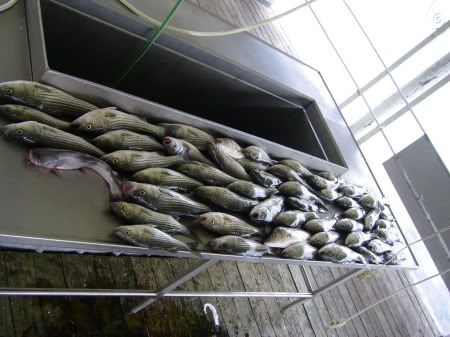 Saturday PM (group of 2) Now with 3 trips with great success behind me I was confident that we would go out and have an easy trip. Apparently I had forgotten that stripers are extremely unpredictable and neglected to take into the account the forecast or winds at 0 mph. Fishing was tough. I caught fish nearly every place I went but we only caught 1-5 fish. I could easily find the fish, call them under the boat, and get them to bite, but then they were gone to never return and I would have to leave to go find some more. We got on a lot of good fish and turned several loose that were over 20" which was making it even tougher to put a limit in the box.. I had put 13 fish in the box and it was getting close to sunset. I had just about give up on getting all of our fish and decided to make one last stop. Finally, we started steadily catching fish. We boxed our last 7 and headed to the house. We ended up with a good box of fish but we worked hard for each one of them.
Sunday AM (group of 3) We had the wind this morning so I expected an improvement from the previous evening. Ok, so I still haven't learned that the fish are unpredictable because the fishing had actually gotten worse. We started off the morning topwater fishing which wasn't bad. We found some aggressive fish and put 6 in the box with a couple over 20". Then we switched to bait and threw anchor after anchor after anchor with only 1 fish to show for it. I had made several phone calls to other guides and it was the same story for them and I was actually doing well with my 7 fish in the box. It was 9:30 and my 1 fish off or bait was very discouraging so I decided to go catch some of the small fish that I had been trying desperately to avoid. They were not hard to find and today I was glad to see them. We finished up our limit in about an hour and I wasn't proud of some of the fish that I put in the box but I had decided that giving my clients some meat to go home with was more important than my pride.
Sunday PM (group of 3). At this point I didn't know what to expect, I was worn out from pulling all of those anchors on my last 2 trips and prayed that the fish would be biting for an easy trip this evening. I must have been living right because my prayers were answered with some of the best fishing yet. I threw my first anchor in 30ft of water and got on some good fish. They were all 4-6 lbs and we were having to release most of them as they were over 20" After putting 10 fish in the box and releasing several more the fish left us and I pulled anchor. I moved out into a little deeper water and threw an anchor in 50ft. BLACK OUT! The fish went crazy and it was as fast as you could drop your bait down. We quickly boxed the rest of our fish and played catch and release until my clients were worn out. I was so thankful that I didn't have to go through another trip of tough fishing.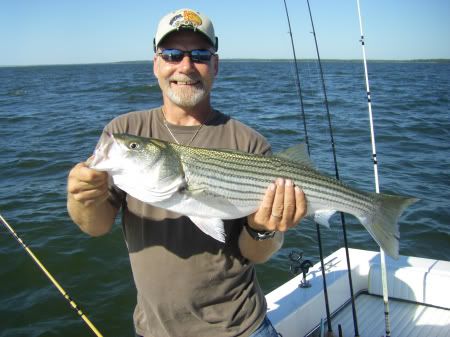 I should be bring home a limit of fish on almost every trip from now through December with the occasional humbling exception. Fall fishing is some of the best fishing of the year. Fishing sassy shad and slabs under the birds should kick off in a few weeks and the bait fishing will remain awesome through the rest of the year. The action is incredible so don't miss out on the fall fishing on Texoma.
Your Lake Texoma Fishing Guide,
Brian Prichard
Stripers Inc.
www.stripersinc.com
(903)815-1609