Joined

Aug 29, 2004
Messages

709
Reaction score

5
Ok, so this is a few days late, and maybe a little long, but here it is anyways. My late turkey hunt report.
Hunted with Deedy up at Bryson on the turkey opener for my first ever turkey hunt. It was a lot of fun and a great learning experience. Turkey's are tough to hunt. Their eye sight is superb, to say the least. But I got a bird, and saw a lot more.
Got up there early Friday afternoon and met up with Deedy around 3pm. Went out to the area the turkeys had been running around in and we immediately started seeing birds. After looking around we found a spot that looked like they were moving through on. So we setup a blind headed on back to the cabins. Looking back we set the blind up to high as the birds were all below us on Saturday. I think the birds come through that area in the late afternoon on their way back to their roost from a water hole.
Saturday I was in the blind with my dad around 645. We proceeded to wait, call, wait, call, wait…. and wait. Finally we started to hear some calls responding back to us. But nothing was moving in, or getting closer. The birds would call back, but would not come in to the call. So after hearing lots of gobbles we got out and started looking around and setting up on some trails where we thought some birds were coming down based on the calls. But nothing.
Suddenly we heard some gobblers making noise behind us, down this wash towards the dirt road, about 100 yards away. So I decided to make my way down the wash slowly using the terrain to get close and hopefully get close enough before popping over the little rise that was between us and the turkeys. But about half way down the wash I noticed a big tom on the other side of the road slightly off to the right, where the wash ended up meeting up with the road, moving down the road away from us. I don't know if they were moving away because they saw us, heard us, or just happened to be moving away because they wanted to go that way. But 2 walked through and that was that.
At that point decided to work down to the truck and see what we could see on our way. As we got about halfway back to our truck we heard a bunch of turkeys gobbling up a storm off to our right. They were responding to the calls that Switch was doing off in that direction. Suddenly we heard two toms gobble just off to our left, just over the little rise through some trees. So we hurried into a position as it seemed like they were heading to the turkeys that were just gobbling. I was kind of behind this tree looking around when I thought I should use the backdrop of the tree to hide me. Just as I jumped in front of the trees the bird's heads poked over the rise and saw me. Busted! Their necks went straight up, their heads went left, right, left, right, left, right… then they moved off to our left. I tried to cut them off, but they moved to fast. They eventually got away and moved off towards where Switch was. I think those are the birds that Switch and his buddy got. But not sure. After Switch and his buddy got their two shots off on their birds there were suddenly a lot of turkey's moving up the small creek along the road. I gave chase, trying to stay low, on two separate occasions, but their eyes are just too good and it wasn't meant to be. Finally we went back to the cabin for lunch around 12.
Spot and stalking turkey's is a tough one. And despite it not being a great way to hunt turkey's, was still really exciting as the birds were all around us.
Deedy had us heading back out at 1, telling us where some turkeys would be around 2. So out we went, and we hadn't even been in the area 5 minutes when we'd seen 1 hen, and 7 toms walking the road. We drove up next to the 7 toms, we looked at them, sizing them up, they eyeballed us, kept on walking, gobbling, and really not being afraid. So we drove on up the road and got out of their sight. I hopped out of the truck, put some shells in the gun, and ran into the tree's off to the right and setup on a tree as it looked like they were going to go right by this spot. Sure enough, couple minutes later they came down the trail I thought they were going to come down, all in a line. First one in line was walking fast and his head was moving too much to offer a clean shot, so I passed on him. Lined up on the second one in line and he was walking slow, his head wasn't really moving. As he came into a clear line of fire I took the shot and he crumpled. I got up and ran to him immediately, as I read that's what you should do, and then put my foot on his neck to finish him off. Finally turkey down! Shot was 32 yards.
It was a blast hunting them. It wasn't your traditional turkey hunt, but it was a lot of fun and a neat experience. Thank you so much Deedy for the hunt and putting us on the birds. It was exciting to be that close to the birds knowing they could spot you with relative ease.
24lbs, 10 inch beard, over 1 inch spurs. For my first turkey it turned out to be a beautiful one.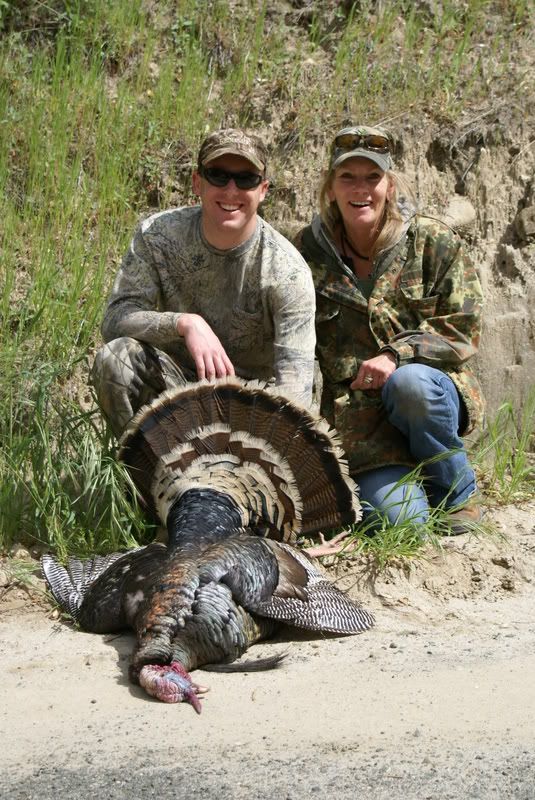 Thanks again Deedy! You're awesome!
Good luck to everyone going up there this weekend.