Joined

Jan 7, 2007
Messages

42
Reaction score

1
Friday the 26<sup>th</sup> I head out from home at 8AM for the long drive to Cedar Canyon Ranch. I was on track but my GPS thought it would be funny to bring us to the Tehachapi prison, don't always trust you gps. I reached Cedar Canyon Ranch just as the other hunters(five hunters in total) were getting ready to shoot and check there rifles. After all the rifles check out we headed up to the chalet to unpack and relax a little until things start to cool off.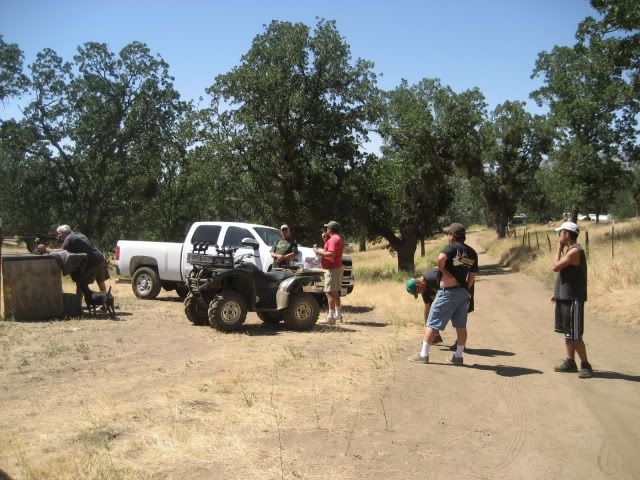 Ok the hunt now begins. <o></o>
<o></o>
Day1-Night
Around 5pm we head down to meet up with bill and the rest of the crew. Bill and Paul each took half of the group and put each of us in to position where the pig will cross. Paul set me up in a spot looking over a whole ridge. Paul Jesse my cousin and I took our spots and started the waiting game . Paul told us that the pigs will be crossing that ridge when the sun starts to set. Boy… was he right just around 7:30 we spot the first few pigs from then till sundown were seeing groups of pigs. We saw a few groups of 2-3 pigs, a group of about 10, and a group of at least 30 pigs. But I never got a good shot, they were either to far or moving to fast or in cover for me to make a comfortable shot. When shooting light ran out we headed back down to meet up with the rest of the hunters.<o></o>
The first night John and Rich got there kills
<o></o>
<o>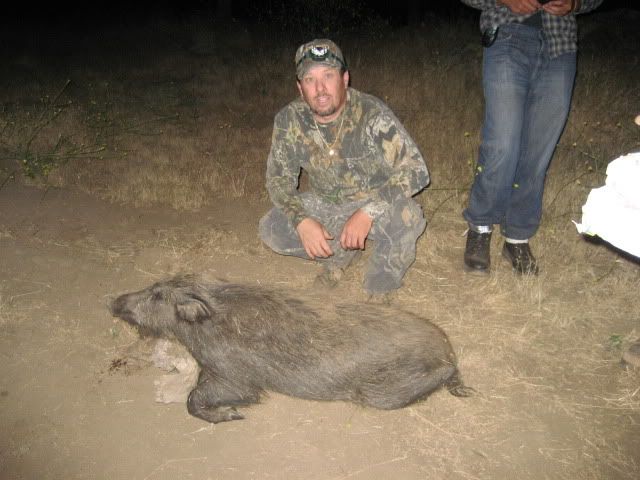 </o>
<o>
</o>
Day2- Morning<o></o>
Woke up around 4AM and headed out around 4:30 same group minus paul. We head toward the same spot we were at the night before and on our way there we spot 2 pig in the street. I stopped and got out of the car but I left my rifle in the trunk unloaded, if I had my rifle with in reach an ready the kill could have been easy (another lesson learned). We sat at the spot until the sun came over the top of the ridge. We only saw one pig but he was way out in the distance. <o></o>
Day2- around noon<o></o>
Bill decides to take out his dogs to try and push the hogs out of there bedding areas. it was Sam(one of the hunters) and I with Bill while Tim was at the bottom waiting for the scared pig to run his way. While driving we scared out a bunch of pigs Sam and I get out of our cars and steady up on a fence all while every one was yellin "they're going up, down, left, right" there were pigs scrambling everywhere, I took aim at a clearing where some pigs were crossing and took a shot at a running pig. I didn't see my shot but from what they told me it was just a few inches to high. We then proceeded to the beading area when we got there we once again spooked another group of pigs that ran circles around us but did not get any good shots once again.
<o></o>
Tim got his pig that after noon. sorry i didnt get any pictures