Here's what my "spare time" has been spent on for a while now. For the contest, I couldn't think of anything cool (brains worn out), so the game will be to guess the day that the design of this board was started (month, day and year). The contest will end Sept. 1st since that's when the boards are supposed to be in.
I think you guys will really love this board. It is the easiest setup that I have used so far. The unique thing about it is the LCD display. When the board is turned on, this is what you'll see: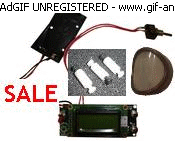 Since the sensor needs a warm up period any way, I thought it would be nice to go ahead and display the current settings while it's warming up, that way if it's already set how you want it, you don't have to enter the setup. Once the board is through warming up, the LCD is turned off and in idle mode, waiting to take a pic.
To enter setup, the "Mode" button is held in for a couple of seconds. This turns the LCD on and displays the first item which is "Delay". To change the Delay you push the "Set" button, once you have the delay you want push mode again and you will see the next feature which is "Double Picture Mode". The "Set" button will turn it "On" or "Off" etc. Once you have cycled through all of the options with the mode button, the LCD will read "Set" To SaveExit". Selecting set now will save the settings and put the circuit back into idle mode, waiting to take a pic.
To see more about it and view a spec drawing with dimensions, go here:
Snapshot Sniper Board
and scroll to the bottom of the page and select the controller board link.
At this time, the board will have 3 solder points for attaching the wires for the camera. Since there are so many different ways that people connect them, you will supply your own cable. This board will work for ON/OFF type cameras and refresh cameras like the D380 and there is also an advanced setup mode that you can enter to choose your camera type. (I haven't got all of this part fully completed yet, but hope to by the time the boards are done.
Also, I'm planning to include a panel similar to the one above that will be 2"x6". Since the panel is plastic, it can be cut to fit your case. Speaking of cases, it is a tight squeeze, but will work in a Pelican 1020.
If all goes well, the boards will be ready by Sept. 1st.